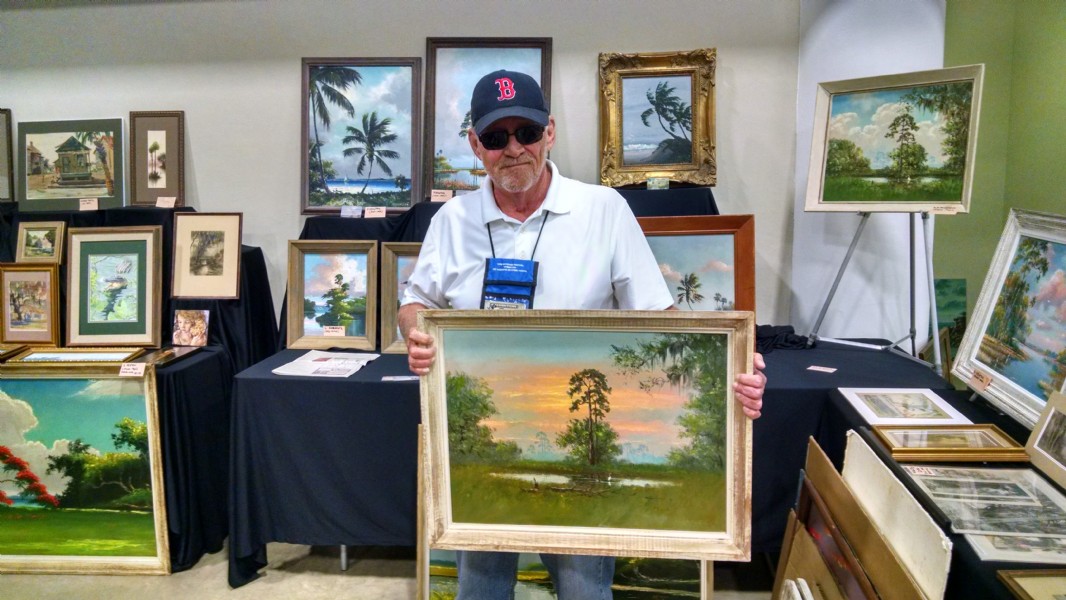 This is Bob LeBlanc, he is an art dealer and joins us every month at The West Palm Beach Antiques Festival. This is an excerp from our recent interview with him.
Bob, when did you start in the antiques business?
- When did you start selling highwaymen paintings?
- What is unique about these paintings?
I am a born collector. I began buying and selling rare coins and related antiques in the late 1960's as a "vest pocket dealer" while attending Boston University. I opened my own store, LeBlanc Numismatics in 1975, and a second larger gallery in 1979, both downtown Boston storefronts on Bromfield Street.
I discovered highwaymen art while reading an article by Jim Fitch loosely defining the group and naming it "the highwaymen" in AARF, in 1995. I purchased my beginning inventory of about 20 paintings directly from him.
Each individual painting is hand done by one of the artists, 99% of them in oils, which makes each one unique. Most of them are pure Florida landscapes and seascapes, done with an emphasis on our spectacular clouds. Considering that the 26 artists created hundreds of thousands of paintings over 5 decades, and there is considerable repetition in scenes, yet each one has different qualities.
How can a person/patron invest in your art?
-What's different about your items?
My focus is on providing my clientele with only the best of the best, mainly vintage pieces from the 50's, 60's and 70's. Through the experience of and buying and selling literally thousands of these works over two decades, I developed a keen eye for quality and a good feel for what the general public appreciates.
I carry many paintings by artists OTHER than the highwaymen, old and new, mostly American, oils and watercolors by well listed artists and talented contemporary artists. Over a hundred to choose from in my booth, mostly smaller works. I also stock collectible vintage hand colored prints of Florida, Wilcox, Harris, Barnhill, Nutting...
What do you like about the WPBAF?
-Would you recommend this show to other dealers?
The WPBAF show owners, managers, and staff, are antique knowledgeable and dealer friendly, reminding their vendors that, "We're all in this together." I believe the show has improved greatly due to the current ownership. I have recommended it for many years and will continue to do so.
When you consider the foot traffic at The West Palm Beach Antiques Festival, it is a great opportunity to meet and educate new potential customers, something this industry so desperately needs. My permanent booth location allows my existing customers to know just where to find me on a monthly basis.
What's different about you and your items?
Since most highwaymen art has remained on the east coast of Florida, WPBAF is a convenient location for sellers to bring me work for me to buy or appraise during the three day monthly window. This is a win-win situation living in Florida.
Several years ago I began a specialized highwaymen appraisal service. My website is highwaymen-buy-sell-trade.com where you can find more information and contact me.
Also, visit my Facebook pages https://www.facebook.com/H-Newton-and-A-Hair-Paintings-309497962412013/
and https://www.facebook.com/H-Newton-and-A-Hair-Paintings-309497962412013/